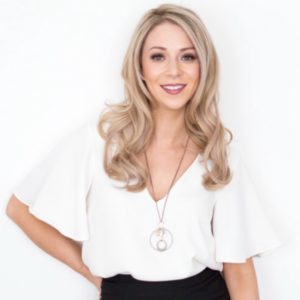 Bethany: Founder & Chair
When still in her early twenties, Bethany identified a lack of suitable provision for physical fitness to boost health and wellbeing within local communities often suffering from economic and social deprivation.
"Whilst delivering dance and fitness instruction as a student at University, I quickly realised that there was a huge need for affordable and accessible provision of activities for people of all ages, abilities and backgrounds across County Durham and the wider region," said Bethany.
Nouveau Wellbeing delivers vital dance and fitness programmes to hundreds of people, including some of the most vulnerable groups across the North East since 2008.
"Having successfully grown Nouveau Wellbeing over the past decade, under my guidance the company has helped communities across the North East improve health and wellbeing."
She won a succession of awards as a result including Ernst & Young Future 50, The Gazette Chief Executive Awards; North East Young Business Person of the Year, and David Goldman Prize for Innovation.

Kimberly: General Manager
As Nouveau's General Manager, I look after our fabulous team as well as supporting daily operations within the organisation. Having worked at Nouveau Wellbeing for several years, I bring knowledge and experience within my role.
In addition, I run a number of weekly classes with attendees commenting on my passion and enthusiasm for dance and fitness. Clients return each week to develop their own skills and abilities, whilst enjoying the fun and social side of the classes. Comfort and happiness keep the members coming back each week, something I am extremely proud of.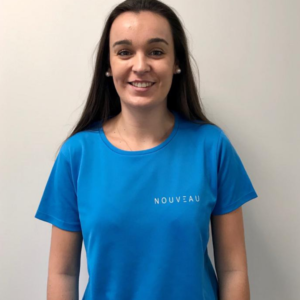 Emma: Assistant Project Lead
I graduated from Teesside University with a BA Hons Dance Degree. During my time there I took part in many performances and taught at a range of schools.
I joined the Nouveau Wellbeing as a Practitioner after graduating from University and have progressed to Assistant Project Lead. I have gone on to complete fitness industry qualifications and develop my teaching focusing particularly working with pre-school children, older adults and pre/post natal.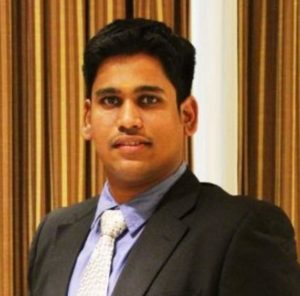 Dr. Murali
My interest in health and physical activity, sports and exercise medicine made me pursue the prestigious IOC Diploma in Sports Medicine from the International Olympic Committee and a masters degree in Sports and Exercise Medicine from the University of Nottingham. I have also received a fellowship training in occupational and environmental medicine from India. I am currently enrolled as a full-time PhD student in the Teesside University working on a multi-agency partnership program that aims in promoting and maintaining physical activity in active women during pregnancy and early motherhood. This project is managed by Nouveau Wellbeing, partly funded by Sport England and includes many stakeholders such as NHS, County Durham and Darlington Foundation Trust and Durham County and Darlington Borough Councils.
I am passionate about improving women's health, particularly enthusiastic in researching on the impact of physical activity on the health and wellbeing of women. Along with my clinical practice, I had a highly diverse working background spanning from medical education to, being a medical advisor to various industries. This holistic background equips him with medical expertise, academic and research skills and administrative abilities.

Natalie: Marketing & Communications. 
Casual Dance Practitioner
I began dance classes at a young age under the instruction of Bethany Ainsley, the founder of Nouveau Wellbeing. Across the 10 years I danced with Bethany I was able to see the founding of Nouveau Wellbeing and the company's development from a simple dance class to a successful social enterprise.
When I graduated from Newcastle University with a Bachelor of Arts degree in 2017 I began working for Nouveau Wellbeing as a Research Assistant. Since then I have taken on a Marketing and Communications role and completed training to allow me to also work as a practitioner. I am very enthusiastic about working for Nouveau as I have supported the company from the very start and wish for their success to continue to grow.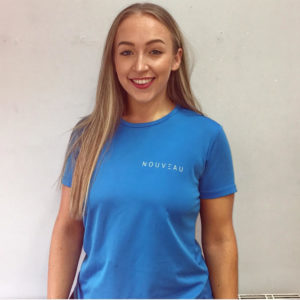 Summer: Casual Dance Practitioner
I  have been dancing and training in dance for many years since the age of 3, as it has always been such a strong passion of mine. I recently graduated from the University of Sunderland studying Performing Arts. In addition to this, have also just finished my PGCE Teacher Training in Primary Education, as I knew teaching was the right path for me to choose.
All of this has led to me working as a dance and fitness instructor for Nouveau Wellbeing. Throughout my years of training I have had the opportunity to learn and develop myself in a wide variety of dance styles such as: ballet, jazz, musical theatre, tap, jazz funk, commercial, street, heels commercial, contemporary as a few from my repertoire. I have taught all of these different styles of dance to a variety of ages ranging from young children to older adults and in addition to the, I have vast experience in teaching fitness classes too.
The use of all these styles has helped and will continue to help me pass on my passion through the huge variety of classes at Nouveau. I hope to widen communities health, fitness and concepts of what dance and fitness can be.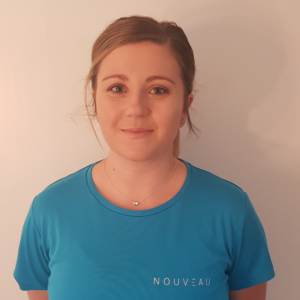 Nicole: Dance & Exercise Practitioner 
I am a dedicated dance teacher with 6 years experience of teaching children and adults of all ages. After school, I realised I wanted to take my hobby of dance further and wanted to become a dance teacher. To achieve this, I studied Dance at Gateshead College, Partnership with Dance City. This two year course consisted of intense training in ballet, contemporary, Jazz and street dance technique. Following this, I received my place in Teeside University on the 3 year dance course. Graduating in 2015 with a BA (hons) Dance degree.
During my time at university, I began teaching for a dance school and a theatre school. This allowed me to gain experience and develop my teaching skills. Whilst still teaching for these companies, I have luckily received the part time dance practitioner position with Nouveau Wellbeing. I truly believe when you love your job, you never work a day in your life! I hope that I can bring my experience, knowledge and passion for dance and fitness to Nouveau Wellbeing.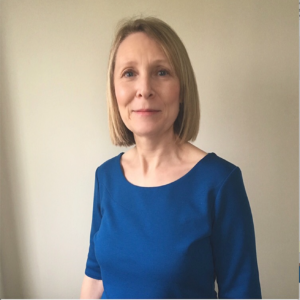 Pauline: Finance and Administration Officer
I joined Nouveau Wellbeing several years ago as a Finance & Admin Officer and have seen the enterprise grow from strength to strength. I am based at the Head Office in Billingham and enjoy hearing about the fantastic work the Practitioners are doing within local communities when they pop in to the office each week.
Working in such a community focused organisation is very inspiring and has led me to develop my own personal interest in British Sign Language and Counselling.

Catherine: Nutritionist and Tutor

I am a qualified nutritionist, tutor and chef with over 30 years of experience in the food industry.
I began my journey straight from leaving school, when I worked in hospital kitchens training to be a chef. From there I moved to London and became a licensee, running a pub restaurant for a number of years. After deciding to move back to the North East, I began running a school kitchen.
Knowing I had practical experience behind me, I made the decision to pursue a more academic career and began studying for my BSc degree in Food Science and Nutrition at Northumbria University. Once qualified, I also studied for and obtained my PGCE from Sunderland University.
My role within the Nouveau Wellbeing team involves delivering practical healthy eating sessions within the local community. These courses are aimed at educating people on how to make healthy lifestyle choices, while cooking on a budget.

Evie: Dance & Exercise Practitioner 
I am a professional dance artist working for Nouveau Wellbeing.  I have recently graduated my three years professional training at DanceCity studying in a wide range of classical and contemporary styles including ballet, contemporary, urban/street, jazz, ariel acrobatics and world dance, during which I was able to work with a diverse range of professional choreographers. I have experience in teaching children and adults of all ages, teaching fitness, and numerous dance styles. I have a passion for teaching within the community to help improve the activity levels of individuals.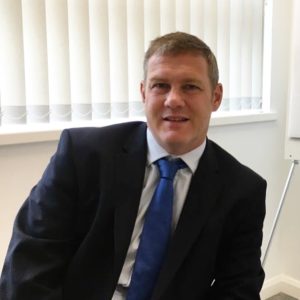 David: Director
David qualified as a Chartered Accountant with Ribchesters before spending a period working as an Audit manager for a large regional practice in Newcastle. He re-joinined Ribchesters in 2000 and became appointed as a partner at the firm in 2002. David is highly experienced in advising family companies, professional practices, charities and academies on audit, accounting and taxation matters. He is one of a handful of practitioners in the region to hold the ICAEW accredited Diploma in Charity Accounting.
David is passionate about North East and its people. He has a keen interest in health and wellbeing and has been a lifelong participant in competitive sport despite having Type 1 diabetes for nearly 20 years. David has strong belief that physical exercise compliments both physical and mental wellbeing.
David joined Nouveau Wellbeing board of Directors in 2016 after sharing similar values to the enterprise. He was also impressed by Nouveau's aims and objectives engage hard to reach communities in activities benefitting participants and wider community.
Norma: Director
Norma Foster is a Company Director and business leader with experience across both public and private sectors. She has particular expertise, from her previous role as Chief Executive of a government quango, in economic regeneration and the development and implementation of creative programmes and projects to address challenging economic and social issues.
After graduating as a linguist with Joint Honours from London University, Norma embarked on an international career ranging from project and operations management to strategic management and corporate development in UK and international markets. Since returning to the UK in 1996, her business portfolio includes several Directorships and non-Executive Director positions in both private and not for profit organisations.
Norma joined the board as Chair of Nouveau in 2016 as she recognised that her skill set could enable the enterprise to achieve it's growth objectives. Sharing a common set of values such as integrity, trust and respect, Norma is a great addition to the company.